Victoria

You'll find just about everything in Victoria: untouched eucalypt rainforests, sandy beaches, the Victorian Alps and desert plateau. You'll also find the dazzling and cosmopolitan city of Melbourne, some of the best winemakers in the world, and towns which offers an insight into Australia's wild past.
---
Victoria, the smallest mainland state in the south-eastern corner of the continent, shows the many faces of Australia. Melbourne, its capital, lies directly on the shores of Port Phillip Bay and offers easy access to the many different experiences Victoria brings to the visitor.
Mountains like the Victorian Alps in the east and the Grampians in the west contrast with coastal areas. Distant desert plateau in the north-west, fertile river valleys of the Murray in the north, and untouched eucalypt and rainforests offer more opportunities for travellers. An excellent highway network and plentiful accommodation - whether hotel, B&B or camping area - allow you to be in a new, breathtaking world every few hours.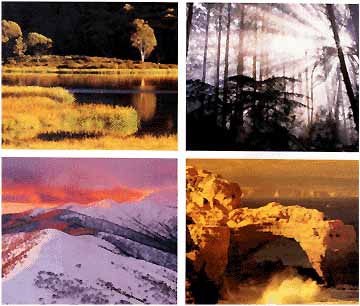 the Alps, desert, fertile river and rainforest
Gold was discovered here in the 1860s, attracting people of many different nationalities. They brought their customs with them, creating a rich diversity in lifestyle. Some of these early settlers established vineyards which still produce some of Australia's finest wines. Within an hour, you reach the Yarra Valley in the east or the Mornington Peninsula to the south where excellent wines and food are produced.

GOLD!
"Modern" Gold diggers
---

Crown Hotel

MELBOURNE

Melbourne, the cultural capital of Australia, is known for the good things in life - fashion, food, entertainment and sport as well as superb gardens and parks. It is also a city of contrasts, famous for its trams and elegant treelined boulevards, set against a backdrop of fine Victorian architecture and sweeping modern skyscrapers.

Fast Facts
About 3.2 million people live in Melbourne.
Melbourne Airport (Tullamarine) is 20 km northwest of the city.
An extensive city and suburban tram, bus and train network operates daily.
Melbourne City Explorer links the major attractions in the city. Alight and rejoin this bus as you please.
Thr free City Circle Tram travels around Melbourne's city centre daily.
The climate is temperature. Melbourne enjoys four distinct seasons. Average temperature: summer 25oC max, 14oC min; winter 15oC max, 6oC min. Water temperatures: summer 21.5oC, winter 10.5oC.
The Great Ocean Road

Do Not Miss
Rialto Observation Deck has stunning panoramic view over the city and Port Phillip Bay.
Take a boat ride on the Yarra for a scenic journey down river.
Enjoy a smorgasbord of events, including Australian Open tennis (January); Grand Prix motor racing; Rip Curl pro surfing (March); Melbourne International Film Festival (July); Australian Football League Grand Final (September); Melbourne Cup (November).
Go window shopping in Australia's shopping capital. Be sure to visit Southgate, South Yarra, and the fashionable Collins Street. Don't go past Queen Victoria Market for their variety, cosmopolitan flair and bargains.
Go for a walk in one of the many parks or visit Melbourne Zoo with its naturalistic landscape exhibits. Enjoy music on selected summer evenings when jazz is played on the lawns.
Try the international cuisine accompanied by Victorian wine.
Queen Victoria Market
---
Click Here for more images of
Australia!
Click Here to book accomodation in Australia
2000 National Public Holidays
01 Jan New Years Day
03 Jan Day in Lieu for New Years Day
26 Jan Australia Day
21 Apr Good Friday
24 Apr Easter Monday
25 Apr Anzac Day
12 Jun Queens Birthday
25 Dec Christmas Day
26 Dec Boxing Day
2000 Victorian Public Holidays
13 Mar Labour Day
07 Nov Melbourne Cup
This information is correct at time of printing, however is subject to change.
Public Holidays that fall over the weekend, will be celebrated the following business day.